Combining cutting-edge scientific research with industry expertise
The DroneSOM project will be carried out by a consortium consisting of a seasoned team of experts from academia and industry. The project partners are Geological Survey of Finland GTK, RADAI Oy, Technical University of Denmark (DTU) and Beak Consultants GmbH.
The project is coordinated by GTK and co-funded by EIT RawMaterials.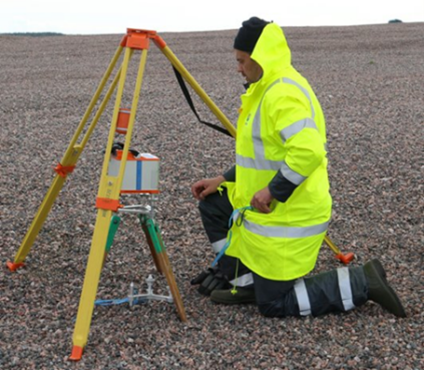 BEAK
Beak Consultants GmbH is a modern and innovative service company which provides a broad range of planning, research and development services in geosciences, environmental and IT sector.
BEAK's role in DroneSOM project focuses on
drone geophysical data integration software
product demonstration and validation
the data integration software development with self-organizing maps.

Technical University of Denmark (DTU)
DTU is recognized internationally as a leading university in the areas of the technical and the natural sciences and renowned for its business-oriented approach, focus on sustainability.
In the DroneSOM project, the DTU Space focuses on the
development of drone-based measurement of gravity (DTU) and electromagnetic data (RADAI) 
professional development and education.

GTK
Geological Survey of Finland (GTK) is an internationally oriented geoscience research agency operating under the Ministry of Economic Affairs and Employment in Finland. The organization is a leading European competence center on the assessment and sustainable use of geological resources. 
In the DroneSOM project, GTK is a led partner being responsible for
project management 
dissemination and communication
development of the drone geophysical data integration software.  

RADAI
Radai is an expert company that offers cutting-edge geophysical measurement services using Unmanned Aerial Vehicles. Radai has a research and development approach, with more than a quarter of its workforce involved in R&D efforts. 
In the DroneSOM project Radai's role focuses on
go-to-market strategy 
drone development.